Cherokee Wiper Conversion
The wipers that came on my Bronco have never worked well.
They usually barely touched the windshield. I found out about
this wiper conversion from a post Van Weaver made to
the Early Bronco Mailing List.
The wiper arms are from a 1986 Cherokee rear window. I got
mine from Napa. Napa part # 819-5835. They were $19.95 each.
These arms fit the wiper shaft, but they need to be shortened
a few inches to fit properly.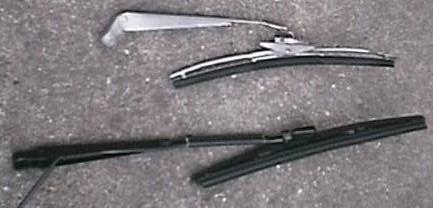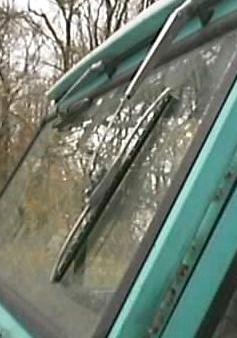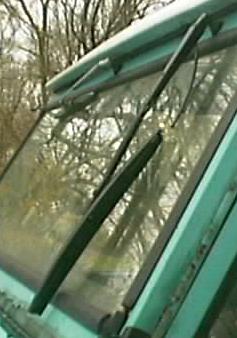 The 1986 Cherokee used a 12 inch blade, but a 13 or 14 inch blade will
work on the Bronco. Just shorten the arm the appropriate length to fit
the blade you're using. After measuring mine with a 13 inch blade, I determined
that I had to shorten the arm 3 inches so it would stay on the window.

The wiper arm comes set up to spray washer fluid from the arm,
but the washer fluid parts can be completely removed.


The rivet that holds the two parts of the arm need to be drilled
out to seperate the two pieces. Make sure you don't enlarge the
hole in the outer part of the wiper when you drill it out. There's
a couple small parts on small parts on the arm, so be careful and
don't lose them.


Next the arm needs to be cut by the amount you determined that
the arm should be shortened. I cut mine 3 inches. Then drill two
1/8 inch holes for the rivet and the spring at the same positions as
the original holes. Use a punch to get the holes started to make
sure they are centered. Then bend the end to match the original
so the spring can be attached.

Put the two pieces of the arm back togather and hook up the spring.
Then, use a 1/8 inch rivet to reattach the two pieces of the arm. If
you don't have a rivet tool, you should be able to find a cheap one
for under ten bucks at a hardware store.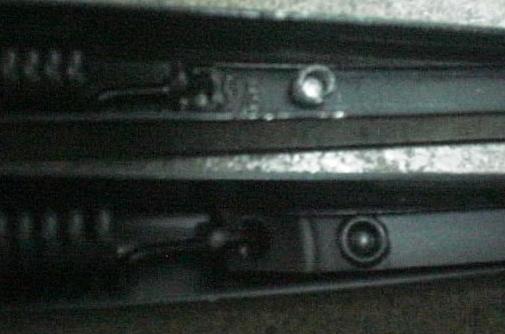 Put the blades on the new arms and enjoy being able to
see when it rains!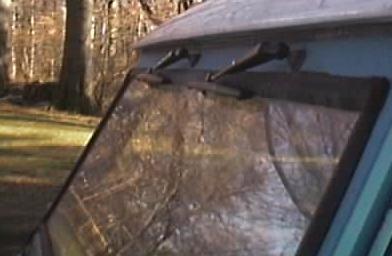 This modification was done based on the writeup at http://www.pcisys.net/~ruprekt/wiper_conv.htm
Page by Marc Reiter - last modified 02/13/00
©2002 copyright BroncOhio Early Bronco Club.